A fresh approach for AmeriWater
As you may have noticed, we have given our website a fresh new look, introduced a bright new color scheme and we've also added new functions and pages to make the website even more user friendly.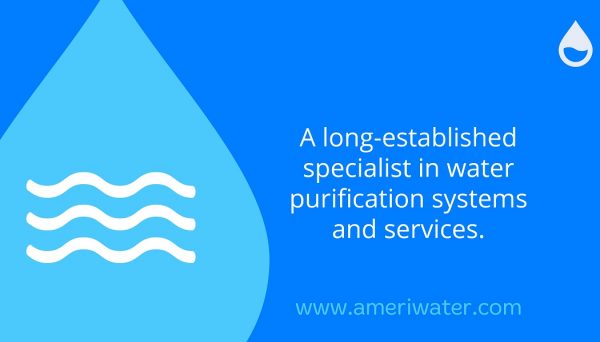 All of this is in line with our new brand and approach which gives AmeriWater a fresh look, helps us to further strengthen our position as a leading water purification specialist and ensures we are providing you with the latest industry news, advice articles and informative content.
Don't forget to check out the new additions to our website:
News – 2018 has been an exciting year for AmeriWater with the launch of new products and our continued growth, we will be keeping you informed of our latest company news and our inhouse experts will also be writing blog posts on the latest sector news, advice and company updates to keep you up-to-date with any industry or product updates. Our blog will also give you an insight into our team's in-depth expertise.
Interactive map – AmeriWater operates nationwide which means same day support can be provided to any US location, offering you fast response times and access to unparalleled local support and expertise. You can now find your local contact through our interactive map.
Solutions – We pride ourselves on our ability to provide water purification solutions to meet your requirements. We have added ours solutions pages to provide you with an overview of our extensive experience and inhouse expertise.
As part of our commitment to ensuring that we are offering you the highest quality and innovative products we are continually developing our offering. We have recently launched new products to both our healthcare and industrial lines. Click the links to view our Nephros Single Stage Ultrafilter or Nephros Dual Stage Ultrafilter.
To ensure we are sharing all of this content with you we have also launched e-marketing channels, as well as a Twitter and LinkedIn account – don't forget to connect with us and you can sign up to receive regular emails here!