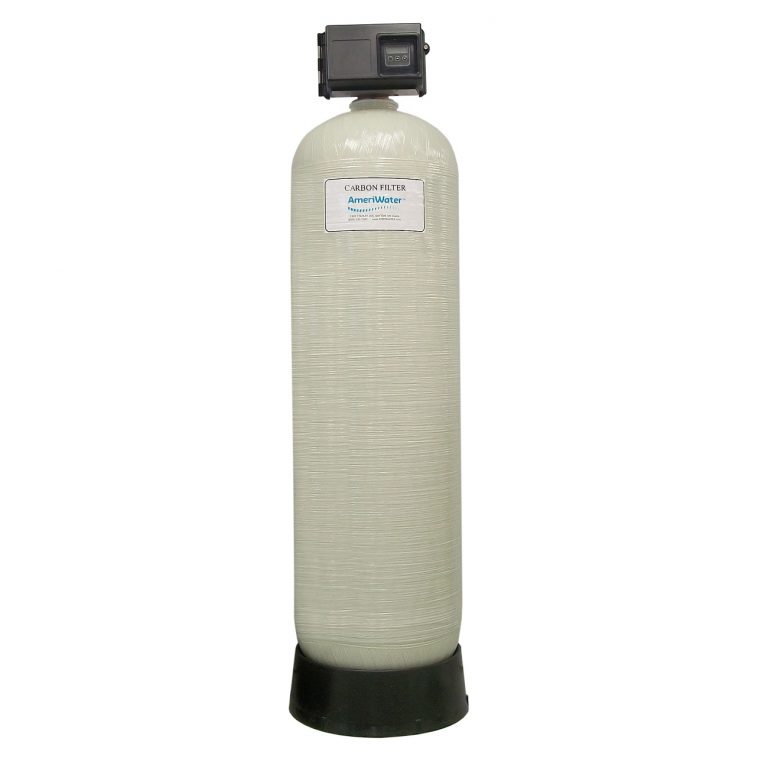 Activated Carbon Water Filter Systems – 28 up to 51 GPM
The automatic backwashing carbon filters utilize the Fleck 2850 SXT control with brass valve, electronic timer, composite media tank and 12 x 40 mesh carbon for long lasting service.
Features
All plastic composite construction eliminates leaks and corrosion.
Electronic programmable control enables complete flexibility of the duration of the backwash and down flow rinse cycles and time of initiation. Standard 12V operation makes for easy installation. Program variables are maintained in non-volatile memory.
Media tank is poly glass composite with 125 PSIG operating pressure and 300 PSIG test pressure.
Specifications
Operating Requirements
Pressure: 20-100 PSI
Temperature: 35-100°F
Electrical: 120V, 60 Hz, 5 amps
Turbidity: 5 NTU
Iron: < 1 ppm
| | | | | |
| --- | --- | --- | --- | --- |
| Model | 0096120 | 0096121 | 0096122 | 0096123 |
| Chlorine Removal Flow Rate GPM | 28 | 33 | 45 | 51 |
| Organic Removal Flow Rate GPM | 8 | 10.2 | 14.1 | 22.1 |
| Carbon Cu. Ft. | 5 | 7 | 10 | 15 |
| Tank Size In. | 18 x 65 | 21 x 62 | 24 x 72 | 30 x 72 |
| Drain Flow GPM | 15 | 20 | 25 | 45 |
| Valve Pipe Size In. | 1½ | 1½ | 1½ | 1½ |
| Weight Lbs. | 400 | 430 | 590 | 670 |
Certifications