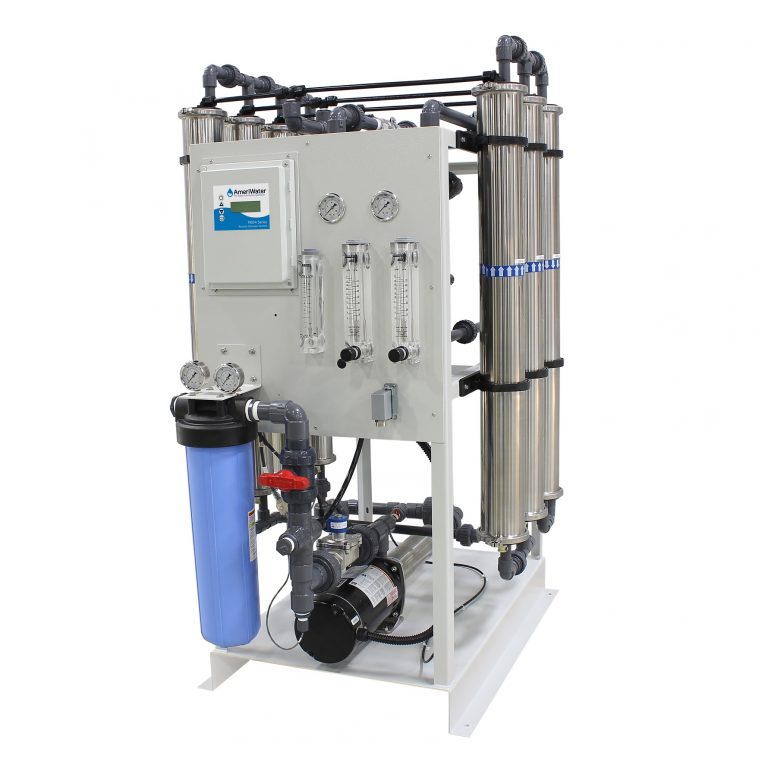 C&I Reverse Osmosis Systems – 2,400 up to 19,200 GPD
AmeriWater's PRO4 Series Commercial & Industrial Reverse Osmosis Systems are designed with energy saving features, durable components, quiet operation, and disinfection capabilities in a space saving configuration. Nominal flow rates range from 2,400 up to 19,200 GPD. Standard or deluxe systems are available. A 4 line LCD display with clear easy to understand information takes the guesswork out of monitoring the RO. The controller stores up to 4 programs and can be easily programmed by connecting it to a PC. All systems utilize the same frame making the PRO4 extremely versatile. Systems can be expanded by simply adding additional membranes and larger pump. The RO membranes operate at very low applied pressure resulting in reduced operating costs. These membranes provide consistent and reliable system performance. AmeriWater also offers pretreatment and post treatment equipment to make a complete water treatment system custom designed to meet your needs.
Features
Both Systems
1 micron sediment pre-filter
Microprocessor controller with 4 line LCD display

Controller stores 4 default programs
Can be programmed by connecting RO
controller to PC
Interface software is included with system

Product water conductivity monitoring (μS)
Operation pressure gauges

Inlet / outlet on pre-filter
Pump pressure
Reject pressure

Product and reject flowmeters
Adjustable reject and recirculation flows
Low inlet pressure alarm/cutoff
Operates on single storage tank level switch
Pretreatment lockout
Quick connect wiring interface for field connections
Additional features on deluxe system:
Percent rejection display
Product divert to drain on poor quality
Metallic components are stainless steel
Adjustable recirculation flow meter
Operates on dual storage tank level switches
UL 508 certified controller
Ability to interface with feed water chemical feed pump
Specifications
Operating parameters:
Operating pressure: 100-180 psi
Nominal recovery: 50-75%* (adjustable)
*(Dependent on operating conditions and inlet water quality)
Nominal salt rejection: 95-98%
Operating temperature: 50-85°F
Design temperature: 77°F
Inlet pressure: 30-80 psi
Inlet water quality: chlorine-free
Controller:
120V, 15 Amps, 60 Hz,
3-prong outlet, dedicated GFCI receptacle
UL 508 certified (deluxe models only)
Pump and motor:
Pump: 304SS horizontal multi-stage centrifugal
Motor: ODP, 208-230V / 460V, 3 phase, 60 Hz
Materials of construction:
Frame: powder coated carbon steel
Membrane elements: extra low energy thin film composite
Membrane housings: stainless steel
Piping: PVC schedule 80, stainless steel
Tubing: polyethylene
Flow Rate* (GPM)
Capacity (GPD)
Mem
Qty
Piping Connections (NPT)
Pump HP
Operating Power (Requires Two Power Sources)
Inlet Feed
Product
Reject
Control
Pump**
Amps
1.67
2,400
1
¾"
½"
½"
0.5
120V
208-230V
3.10
460V
1.55
3.33
4,800
2
¾"
½"
½"
0.75
120V
208-230V
3.60
460V
1.80
5.00
7,200
3
¾"
¾"
¾"
1
120V
208-230V
4.70
460V
2.35
6.67
9,600
4
1"
¾"
¾"
2
120V
208-230V
8.50
460V
4.25
8.33
12,000
5
1"
¾"
¾"
2
120V
208-230V
8.50
460V
4.25
10.00
14,400
6
1¼"
1"
1"
3
120V
208-230V
11.50
460V
5.80
11.67
16,800
7
1¼"
1"
1"
3
120V
208-230V
11.50
460V
5.80
13.33
19,200
8
1¼"
1"
1"
3
120V
208-230V
11.50
460V
5.80
* Permeate flow based on the following standard test conditions: 2000 ppm NaCI, 150 psi, 77°F, pH 8 and 50% recovery.
RO flow rate may vary ± 20%.
** Standard factory setting is 208-230V, 3-phase power. System can be field wired to 460V.
Certifications
UL 508 certified controller on deluxe systems