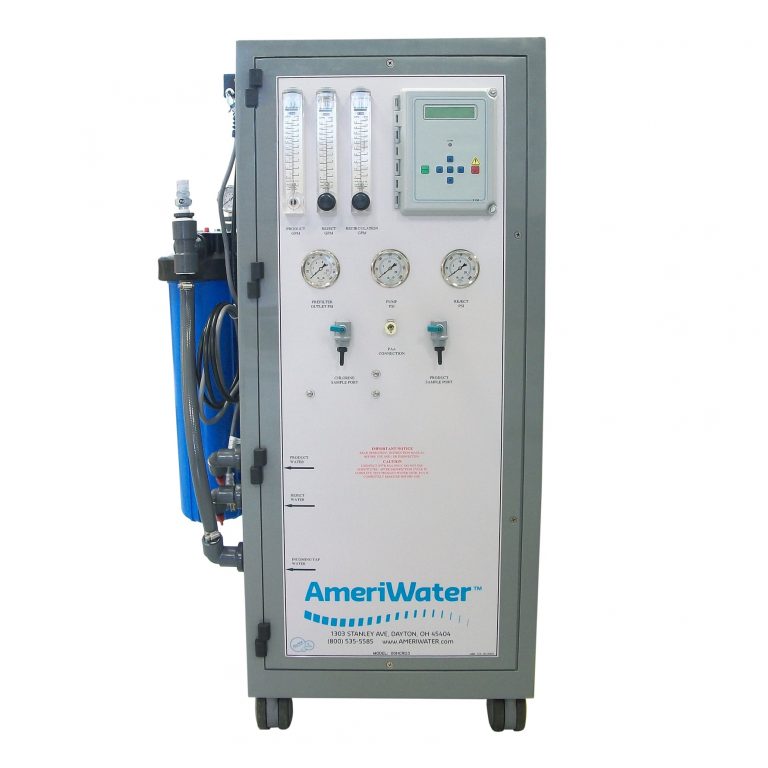 C&I Reverse Osmosis Systems – 800 up to 5,600 GPD
Commercial and industrial reverse osmosis water filtration systems
AmeriWater's unique cabinet design reverse osmosis system provides superior durability. With the pump, membranes and pretreatment located inside, the system is so quiet you won't even know it is running. When it's time for maintenance, the hinged doors on the front and rear of the cabinet allow quick and easy access.
Note: The anti-scalant and carbon pretreatment for the HCR03 and HCR04 are located on the outside of the cabinet for easy access.
Features
Pre-carbon block filter.
Anti-scalant feed to prevent hard water scale on reverse osmosis.
Controller with conductivity of feed and product water.
Disinfection is quick and easy. With a simple push of the keypad, the RO can be disinfected with PAA in only one hour.
The microprocessor controller keeps you informed of operating conditions with backlit LCD displaying: product and feed water conductivity, product water temperature, operating hours, percent rejection, and a variety of operating status messages.
Programmable flush keeps RO fresh between uses.
Specifications
Pressure Min/Max PSI: 20/90
Temperature: 41-100°F
Feed SDI: < 5
Chlorine Max to Membranes: 0.1 PPM
MODEL
00HC-0015
00HC-0045
00HC-0060
00HC-0075
Description
HCROS
HCRO2
HCRO3
HCRO4
Product Flow GPD*
800
2,200
4,200
5,600
Number of Membranes
2
2
3
4
Power Volt / Amp
120 / 13
120 / 14
230 / 7
230 / 8
Feed Flow GPM
3
5
7
8
Percent Rejection
> 96
Shipping Weight Lbs.
265
320
375
395
* Rated nominal flow at 77F, 1500 ppm of NaCl at pump psi of 170 and pH 7.5.
Certifications
ETL listed, conforms to UL Std 61010-1
Certified CAN/CSA C22.2 No. 61010-1
ISO 134585 registered device