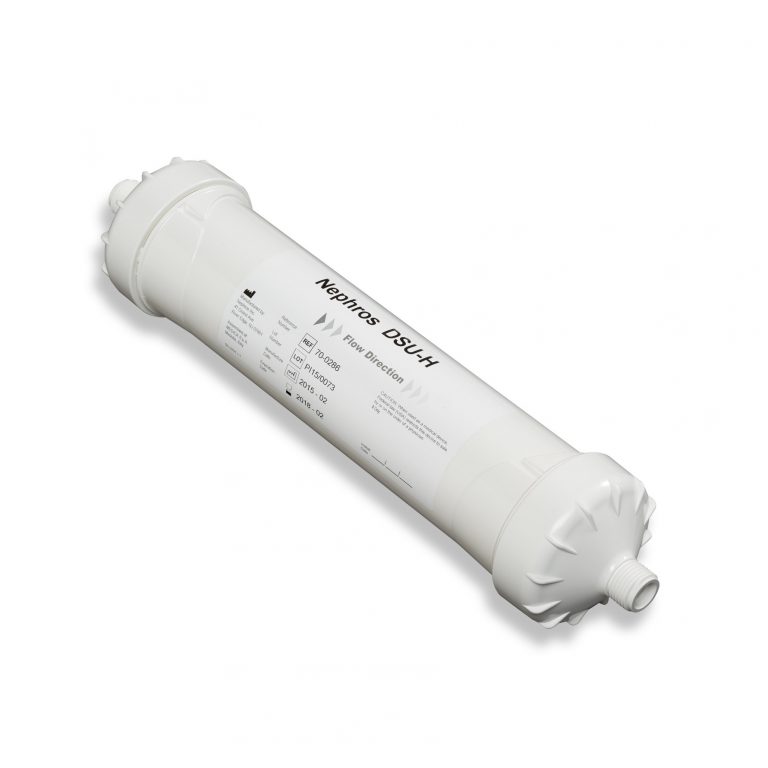 Infection Control – DSU-H Ice Machine Filter
With the risk of hospital-associated infections and their associated costs on the rise, Nephros FDA Cleared Filters are an important addition to aid in infection control. One of the Critical Control Points in a hospital's water management plan is ice machines. Nephros' proprietary hollow fiber membrane ultrafilter effectively retains bacteria and viruses found in water. The water permeability of the membrane is more than double that of membranes with comparable pore size, thus providing efficient flow performance relative to the physical size of the filter. The DSU-H's dual-stage design provides redundancy and up to 6 months of protection in a self-contained unit.
Features
Dual stage filtration design
0.005 micron filtration
Barrier for bacteria and viruses
Allows quick and easy installation
Specifications
Max Inlet Pressure: 100 psi (6.8 bar)
Filter Membrane*: Medisulfone®

Material: Polysulfone
Pore Size: 0.005 micron
Bacteria Retention: >10¹¹ (B. diminuta)
Virus Retention : >10⁸ (PhiX-174)

Dimensions In. L x D: 13 x 2.5
Surface Area: 2.8 m²
Flow Rate: 3.0 gpm at 60 psi (4 bar)
Connections: CPC (APC); 1/2 NPSM
Replacement: Up to 6 months
Configuration: Dual stage filtration
* Medisulfone® is a trademark of Medica S.p.A.
Certifications
FDA 510K Cleared to aid in infection control