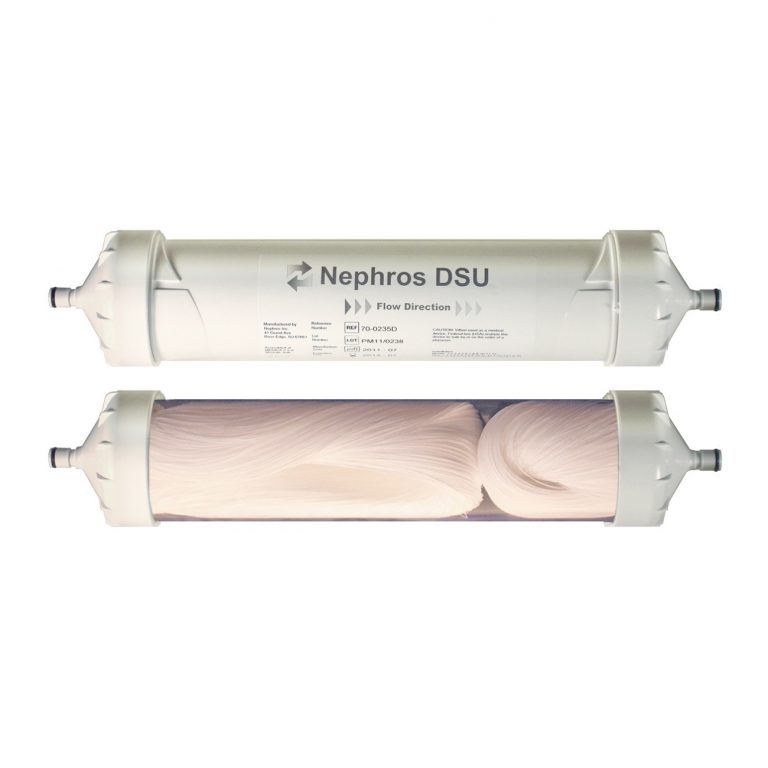 Nephros Dual Stage Ultrafilter
The Nephros Dual Stage UltraFilter Capsule helps you achieve the low levels of contaminants per the AAMI microbiological standards. With its 0.005 micron filter pore size, the Nephros DSU removes a spectrum of bacteria, viral agents and biological toxins (including endotoxin) down to the required levels of the current standards.
Features
Withstands multiple disinfection cycles without degrading
the fibers
Acts as a firewall for the patient by blocking microbiological
contaminants like no other filter of this nature can
Provides up to 12 months of performance life in frequent use
Proven durability combined with safety and reliability of true redundant ultra filtration
Flow rate 1 gpm @ 15 psi pressure drop
Specifications
Sterilization Method: Ethylene Oxide
Max Inlet Pressure: 75 psi (5 bar)
Filter Membrane: Medisulfone®
Material: Polysulfone
Pore Size: 0.005 µm
Bacteria Retention: >1011 (B. diminuta)
Virus Retention: >108 (PhiX-174)
Endotoxin Retention: >105 EU/mL
Dimensions In. (L x D): 13 x 2.5
Connections: CPC (APC)
Recommended Replacement: One year
*Medisulfone® is a registered trademark of Medica S.p.A.
For use with Portable RO's
Some portable RO's have bacteria build up due to infrequent use. The Nephros DSU provides additional security in an acute setting to ensure the highest quality water for the patient.
For use with Individual Dialysis Stations
Endotoxin and/or bacteria can colonize in the RO water loop. The Nephros at each wall box is a final safeguard to ensure that the water going to the dialysis machine is ultrapure.
Disinfection
The DSU is compatible with most common water loop disinfection chemicals it can be subject to the following disinfectants for 1 year of weekly exposures with no degradation in safety or efficacy.
1% Renalin, 1% Bleach, 2% Vinegar, 176°F Water, Hydrochloric Acid/Sodium Hydroxide (monthly).
Certifications
FDA 510K Cleared for the dialysis market
Models
0020-0001: Nephros Field Install Kit & Capsule for MROS, MRO1 and other portables
0020-0004: Nephros Field Install Kit & Capsule for Wall Box
20-0009: Nephros Capsule in Sterile Sleeve