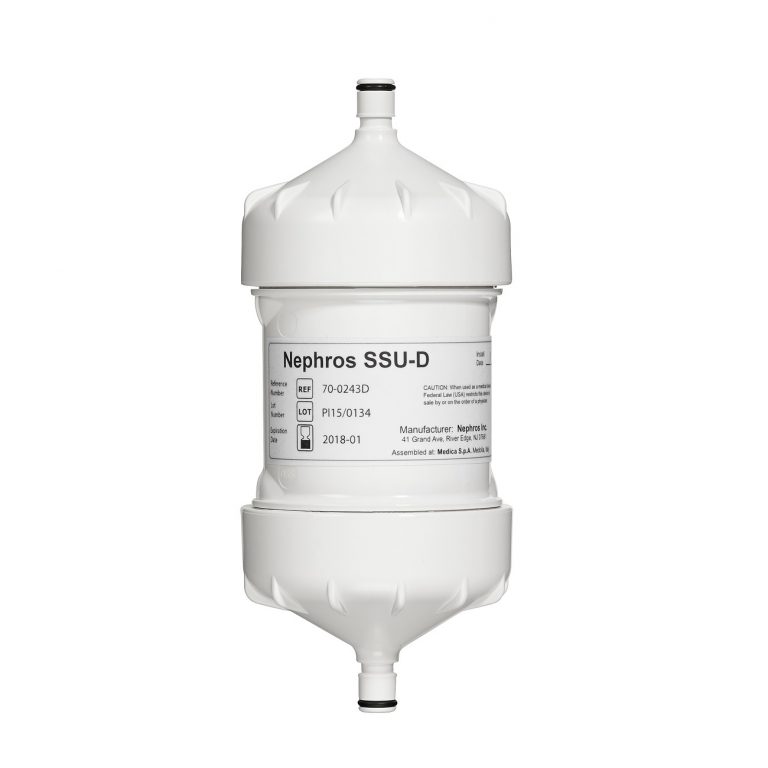 Nephros Single Stage Ultrafilter
The Nephros Single Stage Ultrafilter (SSU) is ideal for use as a bicarbonate filter to help ensure ultrapure dialysate.
Features
Removes bacteria, viruses, and endotoxin allowing Dialysate to exceed ANSI/AAMI/ISO 11663
Provides proven durability combined with safety and reliability
Decreased number of periodic disinfections
Provides one year of performance life in continuous use
Flow rate 1 liter @ 3.5 psi pressure drop
Specifications
Sterilization Method: Ethylene Oxide
Max Inlet Pressure: 100 psi
Filter Membrane: Medisulfone®
Material: Polysulfone
Pore Size: 0.005 µm
Bacteria Retention: >1011 (B. diminuta)
Virus Retention: >108 (PhiX-174)
Endotoxin Retention: >105 EU/mL
Dimensions In. (L x D): 7 x 3
Connections: CPC (APC)
Recommended Replacement: One year
Medisulfone® is a registered trademark of Medica S.p.A.
Certifications
FDA 510K Cleared for bicarbonate filtration
Models
20-0047: Nephros SSU Filter
0020-0006: Nephros SSU Filter with Installation Kit