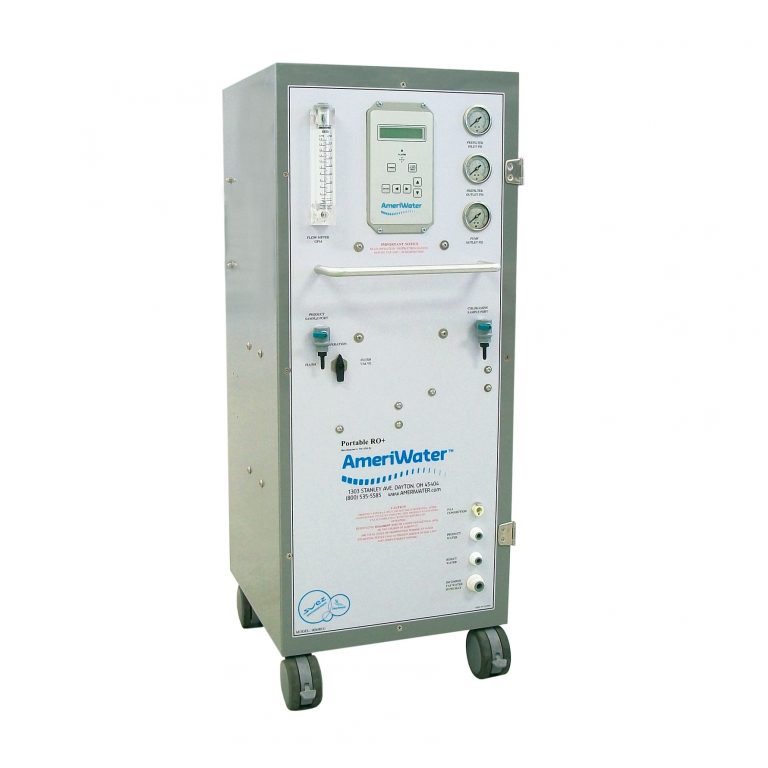 Reverse Osmosis Systems – Portable up to Two Patients (MRO1)
Water treatment for hemodialysis – portable reverse osmosis systems
AmeriWater's portable reverse osmosis systems are designed for ease of use, quiet operation, and superior reliability. The unique compact design is a complete package. All pretreatment, which includes dual carbon filters, sediment filter, and anti-scalant for hardness reduction, is located inside the cabinet. These units have everything you need to transform your tap water into product water for dialysis. The compact size and easy maneuverability make AmeriWater's portable ROs perfect for single patient use in a medical facility or for professional home care.
Features
Entire device conforms to IEC UL standard 60601-1.
Recirculation feature reuses excess product water reducing water usage up to 45%.
RO is fed with cleaner water, improving the quality and performance of the unit.
Plug-n-play controller provides easier access to program changes and disinfect mode.
Controller keeps you informed of operating conditions by displaying water quality readings and alarms.
The system will prevent product water flow to the patient if an alarm signals.
Quick and easy onboard disinfection with the push of a keypad.
Large membrane has the capacity to feed two dialysis machines, even on cold water.
Nephros dual stage ultra-filter blocks microbiological contaminants down to 0.005 microns.
Test ports on the front cabinet simplifies sample taking.
Specifications
Production: 1,400 GPD, 3,680 ml/min @ 77°F
Large membrane has the capacity to feed two dialysis machines, even on cold water
Recovery: 50%
Electrical: 115V / 20 Amps, dedicated circuit
Membranes: 1 / 4″ x 26″ TFC
Projected Rejection: >96%
Dimensions (W x D x H): 18.5″ x 24″ x 52″
Weight: 205 lbs.
Certifications
Entire device conforms to IEC UL standard 60601-1
FDA 510K / ISO 13485 Registered Medical Device
Health Canada Medical Device License 69772