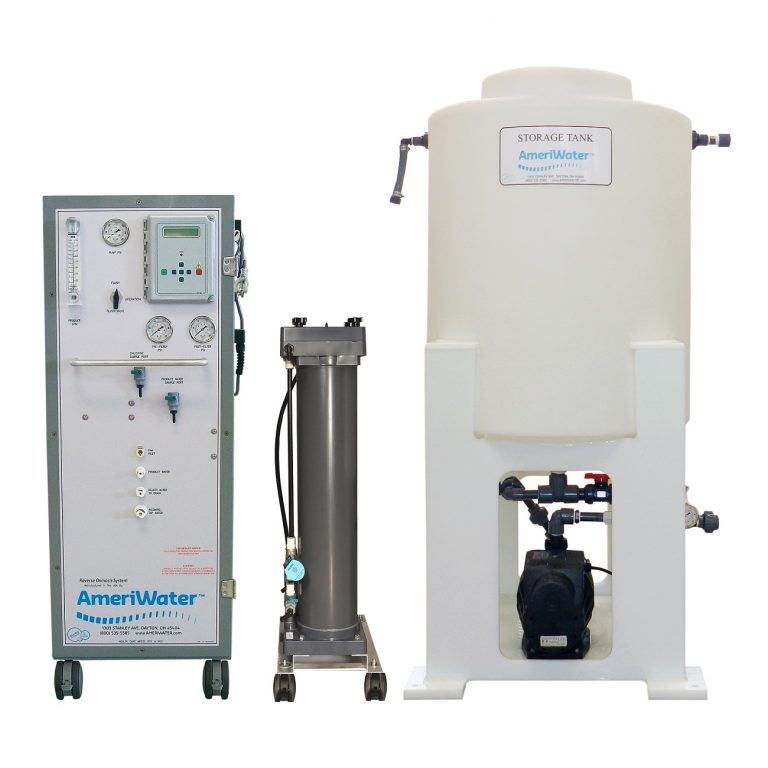 Sterile Processing Water Systems – up to 108
Water treatment systems for central sterile processing
For Applications Requiring Up To 108 Gallons Per Hour.
AmeriWater's complete water treatment systems for central sterile processing provide high quality low conductivity water for washers, disinfectors, glassware washers, steam boilers and final rinses used in hospitals. They are designed to use a minimum of valuable floor space while providing high quality water. Field proven in medical facilities across North America, AmeriWater's central sterile water treatment systems are designed to minimize maintenance and deliver greater energy efficiency while providing cleaner water for cleaning, disinfecting, and sterilization.
Features
Pre-carbon block filter
Reverse osmosis unit purifies your water
Anti-scalant feed reduces hard water scale on RO
Controller with conductivity feed and product water
Simple disinfection cycle
Storage tank with sealed lid and distribution pump ensures continuous pure water for your systems
Flexible configurations available
Optional deionizer polisher includes a 200,000 ohm-cm monitor and alarm
Storage tank sizes are 55, 100, and 185 gallons
Low feed pressure system shutdown / alarm
High conductivity alarm
Storage tank empty pump shutdown
Specifications
Drain: One 1½" Floor Drain or Sink
Feed Water Quality: Potable Drinking Water Standards
Feed Water Temperature: Between 41°F – 90°F (Ideal 77°F)
Feed Water Flow Minimum: 5 GPM
Feed Water Pressure Min./Max.: 20/50 PSI
Projected Rejection: > 96%
Distribution Pump Output (Std): 20 GPM at 20 PSI
Distribution Pump Output (High Flow): 30 GPM at 30 PSI
Electrical (Std): Two 115V, 20 Amp Dedicated Circuits
Electrical (High Flow): One 115V, 20 Amp Dedicated Circuit and One 220V, 15 Amp, Dedicated Circuit
Gallons per hour (GPH)
Deionizer
Pump Output
Tank Size (GALS)
Model
Dimensions
Up to 70* / 108**
Yes
Std
55
00HC-2046
66x30x62
100
00HC-2047
72x33x66
185
00HC-2048
79x36x96
High Flow
55
00HC-2051
66x30x62
100
00HC-2052
77x36x66
185
00HC-2054
79x36x96
No
Std
55
00HC-2016
56x30x62
100
00HC-2017
62x33x66
185
00HC-2018
68x36x96
High Flow
55
00HC-2020
56x30x62
100
00HC-2021
68x36x66
185
00HC-2023
72x36x96
* Gallons per hour are listed at 60% of the rated capacity due to variables such as feed pressure, feed water quality, and temperature.
** By adding the blend valve (00HC-5001) the feed inlet water temperature is maintained at 77F, which increases the RO product output.
Certifications
ETL Listed, Conforms to UL Std 61010-1
Certified CAN/CSA C22.2 No. 61010-1
ISO 13485 Registered Device
Seismic OPA-2202-07