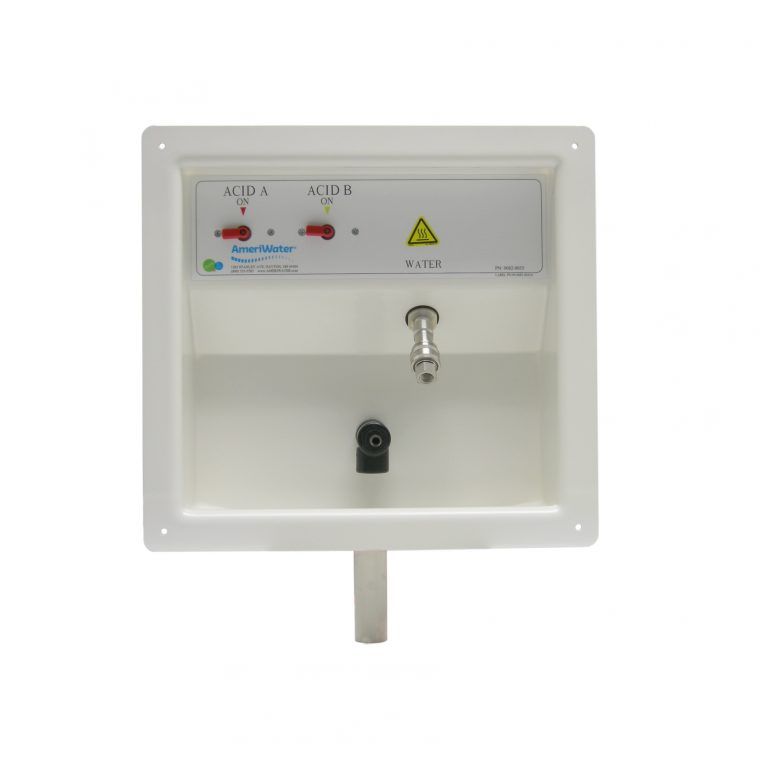 Wall Boxes for Heat Disinfect Systems
Features
Single piece ABS construction wall boxes recess into the wall to prevent damage to the valves and dialysis machine connections when chairs recline.
The acid concentrate and bicarb fittings for specific dialysis machines are not included. When ordering, ship the fittings from your dialysis machine supplier and AmeriWater will install them prior to shipment.
Water connection is a female stainless steel quick disconnect with shut off.
Male quick disconnect with MPT threads is also provided to adapt to your dialysis machine inlet hose.
The acid and bicarb on/off ball valves are heavy duty PVC with EPDM seals, and color-coded handles with safety collar.
Includes acid & bicarb isolation valves to service the wall box without shutting down the acid & bicarb loops.
Drain connection is 1" PVC pipe.
Wall box dimensions and installation information (refer to page D-555DWG).
Optional wall box sampling valve used to draw water samples through the water quick disconnect fitting (part number 0082-0050).
Specifications
| | | | | | |
| --- | --- | --- | --- | --- | --- |
| Model | 1 Acid | 2 Acid | 3 Acid | Bicarb | Water |
| 0082-0030 | | | | | X |
| 0082-0031 | X | | | X | X |
| 0082-0032 | | X | | X | X |
| 0082-0033 | | | X | X | X |
| 0082-0034 | X | | | | X |
| 0082-0035 | | X | | | X |
Certifications
FDA 510K / ISO 13485 Registered Medical Device
Health Canada Medical Device License 81473
UL Recognized, 94HB