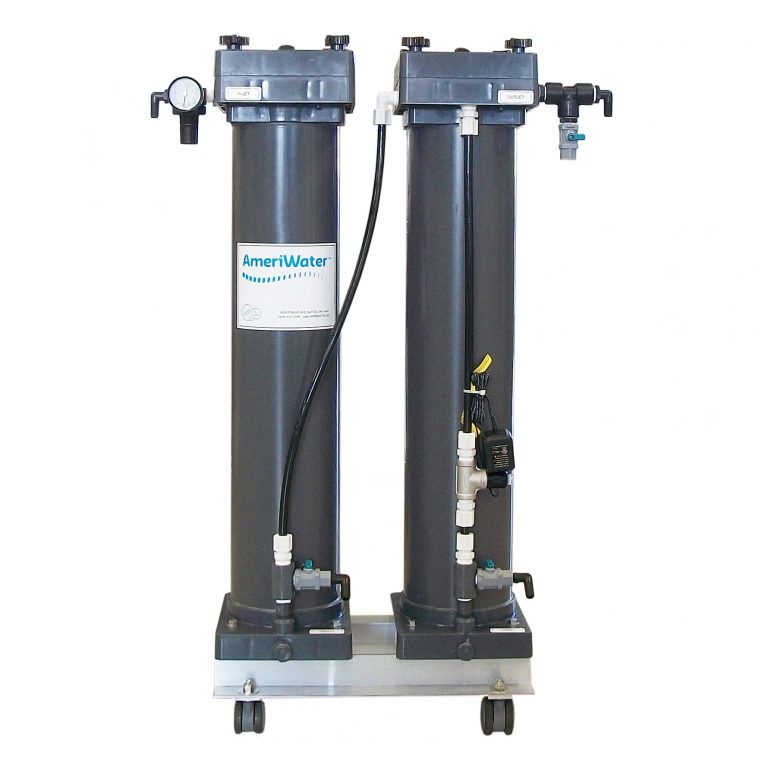 Demineralizer for PrintWater – up to 50 GPD
The PrintWater 00DM-1 allows you to make your own demineralized water with very little investment. It is the perfect size for printers that use less than 50 gallons a days of treated water. By using demineralized water produced by PrintWater systems, you can count on water conductivity between 10 and 20 micromhos (microsiemens/cm), the perfect water for mixing with your press chemistries for consistent and continuous printing. The 00DM-1 package includes dual column demineralizer, pressure regulator, 10,000 ohm water quality light, complete installation kit, manual, and four resin packs (two for use/two for spare). Each PVC canister holds ½ cubic foot of resin specially blended to ensure consistent water quality production.
As water runs through the system, the resin removes the minerals that cause problems for printers. The green light on the monitor indicates that you are producing quality water. When the light turns red, it is time to exchange to fresh resin packs.
Specifications
Flow Rate
3 GPM
Installation Requirements
Standard 115V receptacle
Tap water supply acceptable
Water Supply
½" line minimum is best
Dimensions In. (W X D x H)
18 x 9½ x 46
Weight Lbs.
75 without resin packs
120 with resin packs
Certifications