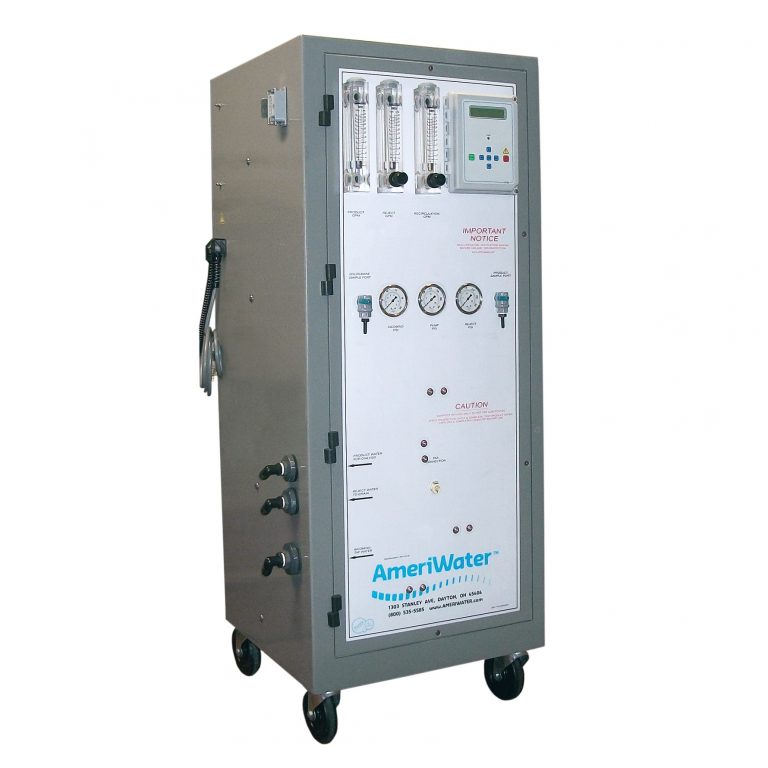 Reverse Osmosis Systems (MROX) – 4,320 up to 9,244 GPD
This compact size cabinet RO is perfect for central dialysis water treatment systems up to 30 stations. Combine two systems for up to double the capacity. AmeriWater's unique textured cabinet design provides superior durability. With the pump and membranes located inside, the system is so quiet you won't even know it's running. When it's time for maintenance, the hinged doors on the front and rear of the cabinet allow quick and easy access.
Features
4" x 40" thin film composite membranes in stainless steel housings provide superior contaminant rejection and product flow. Quick connect product manifold provides for easy membrane profiling.
Disinfection is quick and easy. With a simple push of the keypad, the MROX can be disinfected with PAA in only one hour.
The high efficiency quiet pump with integral motor starter and motor protection keeps this system running smoothly and protects the motor from overload.
The microprocessor controller keeps you informed of operating conditions with backlit LCD displaying product and feed water conductivity, product water temperature, operating hours, percent rejection, and a variety of operating status messages. Programmable flush keeps RO fresh between uses.
The product divert feature diverts water to the drain when the conductivity exceeds the set point for added patient safety.
The tank override feature allows the RO to be turned on even if the storage tank is full so the required 15 minute RO run time before sampling can be done.
Specifications
Model
MRO2X
MRO3X
MRO4X
MRO5X
# Membranes
2
3
4
5
Performance
Projected Rejection
>96%
Production GPD*
4,320
5,544
7,401
9,244
Production LPD*
16,654
24,981
33,308
34,822
Recovery Rate (Adjustable)
50-70%
Electrical (requires 2 supplies
Pump (Specify voltage)
1Φ: 220V, 9.9 amps
3Φ: 208V, 7.5 amps / 230V, 6.5 amps
3Φ: 208V, 12 amps / 230V, 10.1 amps
Pump HP
2
3
Controller
115V, 20 amps
Membranes
Size In.
4 x 40 FRP
Type
TFC
Housings
Stainless Steel
Feed Requirements
Max Free Chlorine
<0.1
Temp. Range
41°F-90°F, Ideal 77°F
Operating pH Range
6-9
Pre-Filtration Required
1 Micron
Pressure Feed PSIG
20-90
Max. Fouling Index SDI
<3
Connections In. (in/out/drain)
¾ / ¾ / ¾
Dimensions In. (W x D x H)
26 x 25½ x 59
Weight (Operating / Shipping)
259 / 369
295
331
367 / 477
* Product rates vary with temperature. All models are rated at 77°F with feed water of 1500 mg/l of NaCl
@ 50 PSI feed and pH of 7.5. Distribution loop sizes may limit number of stations on direct feed systems only.
Certifications
Entire device conforms to IEC UL standard 61010-1
FDA 510K / ISO 13485 Registered Medical Device
Health Canada Medical Device License 72732