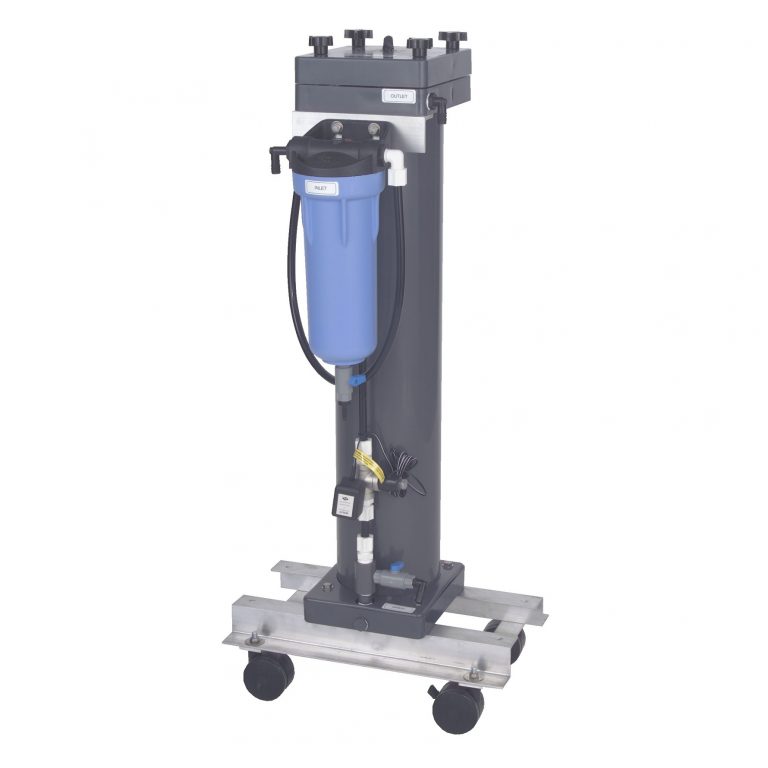 Silex Deionization Systems – 10 up to 30 GPD
Silex single housing deionizer is designed for smaller users of deionized water, i.e. labs, eye glass stores, small batch mixing, cigar humidifiers, polishing of RO product water, and small ultra-sonic cleaners. The Silex deionizer uses a pack of mixed bed resin that is sent back to the regeneration center to be recharged. A spare pack is usually purchased so they can be alternated for regeneration. The regeneration service is only a fraction of the cost of disposable deionizer cartridges. The all-plastic PVC housing is durable and the packs are easy to exchange. Different model packs produce different water quality for various applications. Units are available with or without casters and with different resistivity monitors (20,000, 50,000 or 200,000 ohms/cm) or no monitor.
Specifications
Inlet/Outlet: ½" NPT
Capacity: ½ cubic foot
Flow Rate: Up to 3 GPM
Maximum Feed Pressure: 50 psi without regulator kit
Maximum Temperature: 110°F
Bottom Drain and Sample Port: ⅜" ball valve
Model
Monitor**
Pre-Filter
Size In. (W x D x H)
Ship Weight Lbs.
Silex Single Deionizers Without Casters
00M10400
None
None
11 x 9 x 36
28
00M12500
200K
10"
16 x 9 x 36
33
00M15500
50K
10"
16 x 9 x 36
33
Silex Single Deionizers With Casters
00M10000
None
None
13 x 41 x 18.5
30
00M11200
1 meg/alarm
10"
16.5 x 41 x 18.5
35
00M12200
200K
10"
16.5 x 41 x 18.5
35
00M15200
50K
10"
16.5 x 41 x 18.5
35
00M17200
20K
10"
16.5 x 41 x 18.5
35
*Gallons per day (GPD) is based on incoming water quality.
** Resistivity monitor 50,000 or 200,000 ohms/cm.
Certifications